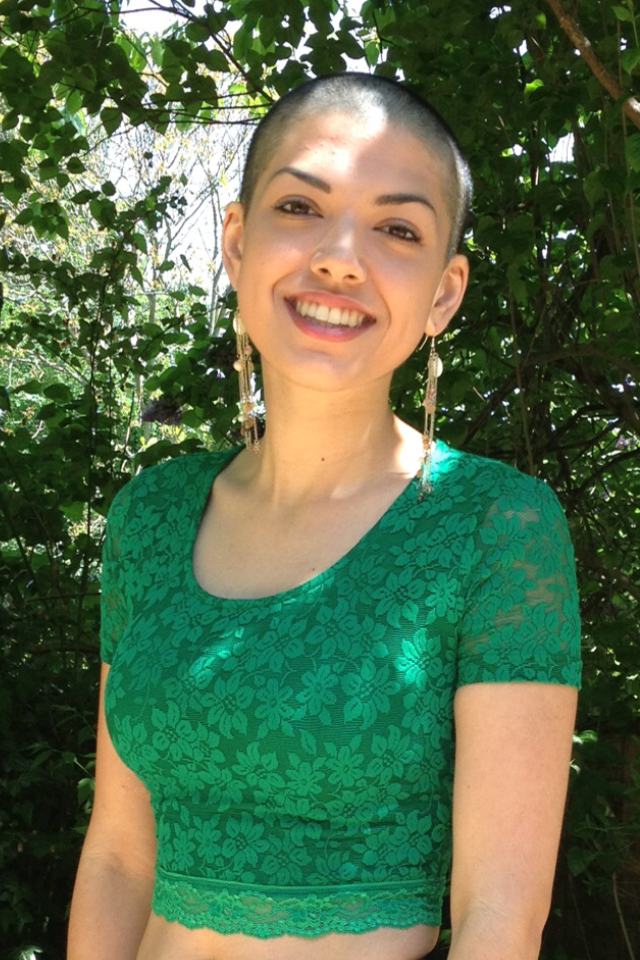 My name is Rosanna Connolly. I turned 22 last week. I love music and fashion.. I am quite artistic! I like to sew and make my own clothes, I also love songwriting and singing/playing my guitar. I went to the BRIT School when I was 16 and currently work as the publicity assistant at Virgin EMI (Best job EVER!)
When was your diagnosis given and what were you diagnosed with?
I suppose my story starts when I was first at BRIT. I was 16 and loving life. I was right where I wanted to be. Then I kept getting more and more tired. Along with tiredness came headaches and nausea. I went to the doctor, I got antibiotics.
I was so tired I couldn't physically run for a bus with my friends. After that day I never returned to college. Over the next couple of weeks I lost a stone in weight and eventually I couldn't even sit up. Two doctors came to visit me over this period of time, one said it was swine flu – more tablets. The other rolled her eyes at me and was very impatient.
My mum called an ambulance and I went to A&E, there was something wrong with my blood so I had to stay overnight. My haemoglobin was 3. The next day I was told I had cancer… AML Leukaemia
What were your first thoughts and feelings after your diagnosis?
 I didn't really know what cancer was.. I thought it was something old people got. I didn't really know what I was supposed to feel. I guess I felt relieved in a way because people thought I was being overdramatic.
What was your experience interacting with the doctors and surgeons after being diagnosed?
4. I have to say the doctors at the Royal Marsden are excellent! There's an oncologist that saved my life. She realised something was very wrong when I got there. She'd finished her shift for the day but she was so concerned for my well-being that she went home, fed her kids and then returned to handle my case. She ordered scans etc. and as she suspected, there was something more sinister than just the cancer. I had large blood clots in my brain and was too unwell to be at the Marsden to I was taken to St. George's PICU.
Did you ever seek second opinions from another hospital or country?
I am fortunate enough to come from a family full of doctors! There's about 20 in my family! A couple are surgeons, more GPs, I had cousins studying medicine in Uni at the time too. Then there's nurses, physios, an ENT specialist… The list goes on! All at my fingertips! My case was pretty rare so it was discussed nationwide for the best protocol. I don't know whether this would have happened if my aunty (another doctor!) had't been involved.. I couldn't say. To be honest, I was so unwell my parents had to make the decisions for me. (I was in a coma and had severe strokes, when I woke up I was blind and paralysed on the left side of my body).
Have you made any lifestyle choices since being diagnosed?
I've chosen to be happy. Some days in harder than others, but I firmly believe happiness is a choice.
Could you tell us more about the support groups and societies you are involved with?
Teenage Cancer Trust is a wonderful, wonderful charity! I started getting involved with them when I was 18. When I was 16, I was treated on children's wards with very young children and it was quite difficult but obviously much better than being on an adult ward.
When I relapsed in 2013 (a whole other story!) I was treated in a TCT ward and it was a fantastic place. I can't begin to tell you what a difference that charity has made on my life and so many other' too.
CLIC Sergeant is another excellent charity. They provide social workers for you to help you sort out financial support and to liaise with work/school etc. I was so blessed to have two amazing women caring for me and helping my family.
The Emily Ash Trust is brilliant – they make you feel so special! I was lucky enough to go in a limo to Topshop and have a personal shopping experience with £500 to spend. A group of us from the Marsden went together and It was so much fun.
The Willow Tree Foundation were also very generous and organised a special trip to the theatre for me and my family.
 Can you give any advice to people in the same position as yourself and to doctors or surgeons who wish to communicate better with their patients?
I was lucky enough to have a family of doctors who were really on the ball and in the know. I would say to not just accept what the doctors say, but ask questions too. A pen and notebook are your best friends – write down EVERYTHING. You can always go and research yourself or seek a second opinion when you know what you're looking for/asking.
When I had to have a transplant (after I relapsed) I was quite explicit that I did't want to know anything, only the bare minimum. My parents wanted to know more so they told them but I didn't want to hear it – I just wanted to 'get on with it' and stay focused.
I think there is a definite lack in communication between doctors and nurses. We found ourselves constantly having to repeat things which wasn't ideal – especially when it's quite stressful.
If you could change one thing about the current healthcare system, what would it be?
I think the NHS is fantastic. I feel very blessed that I was treated on a Teenage Cancer Trust Ward the second time around. If I hadn't I would have been on an adult ward and I don't think the outcome or care level would have been the same. To be honest, I don't even know if I would still be alive.
There is something on my heart that definitely needs to change. Care for the mentally disabled. Recently, a friend of the family's son passed away – he was 50 but he was mentally a 5 year old. He had cancer that was diagnosed so late there was nothing they could do. His carers left it so late and were very slow to take it seriously. He tried to tell them in his own was, he even broke his arm trying to tell them – He knew something was wrong but he couldn't verbalise it.
Even if he had been diagnosed sooner, to think of him being in an adult ward, not understanding… It breaks my heart. I certainly don't think he's the first person this has happened to. I feel very strongly that there needs to be specialist care.
It was so hard for me to get diagnosed as a teenager. People were brushing me off as 'overdramatic'. I can't think of the difficulties that come when you can't even explain yourself properly.